Post by Shelly D. D. on Aug 30, 2016 12:14:26 GMT -5
This story actually took place before Ayla, Viconia and Aerie went missing for 4 year. It is the story of how Viconia a stranger to Loch Ness and Tent City. A young Woman brought to Loch Ness by Kain Xtros as his Pet, his Charge, his Faverite One. A young Woman from the future where Dragon were feared and feared by Viconia. This is the story of how this young Woman received a Dragon Egg, raised and learned to ride the Dragoness Adalon.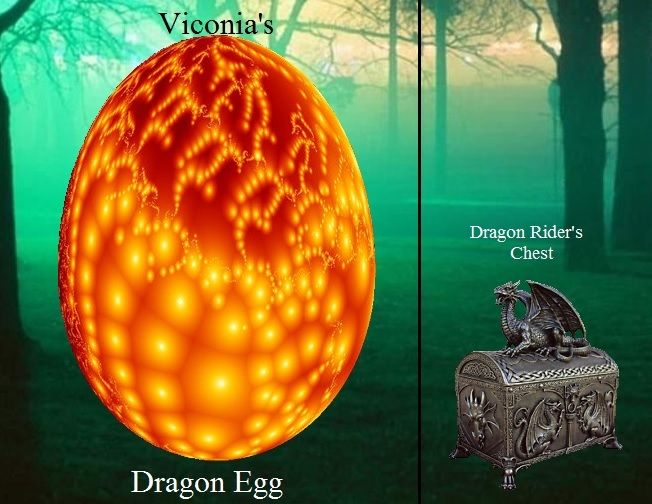 It all began when Ayla and Aerie went to visit Aerie old home so that she could get the rest of her belonging and have Ayla meet the rest of her family that Aerie had left behind. Viconia was left alone to watch over Loch Ness until Ayla returned. Ayla and Aerie had only been gone a few days when Viconia met an old friend of Ayla's Stellerax King Of The Northern Gods and Goddesses Of Loch Ness. The two if them hit it off great. Viconia helping him with a problem he was having with his brother. (You can find more about that in Viconia's Character Sheet.) When Ayla and Aerie returned from their trip and were sitting outside of the Food And Drinks Tent at Ayla's table the two saw Viconia and Stellerax walking into the City. Viconia was carrying a very Large Egg and Stellerax was carrying a Large Grey Chest with a Dragon on the Lid. The two were told how Viconia had helped Stellerax and the Egg she had was one of the gifts he had given her. She told them that she was a little scared but felt she would be all right knowing that she would be raising the Dragon as it grew up. Stellerax had to leave on Godly Business of his own.
Viconia was very protective of her Dragon Egg. Of anyone was to touch it would think their were facing the Dragoness mother instead of a young human girl. She wantd to keep it with her at all times but did not know how, but Ayla did. At one time Ayla had to care for her little brother Landon and she had a pack made so that she could keep him with her at all time. It was no problem to just give it to Viconia for Ayla no longer needed it. And it worked great. With the pack from Ayla it was now easy for Viconia to do what she wanted and had to do through her day with her Dragon Egg safely on her back.
One night after their long day of scouting around the Loch Viconia was heading into the Food And Drinks Tent from her dinner. But she soon came running back out her eyes as big as saucers as she rushed over to Ayla's table, she kept repeating "it's moving, it's moving," as she was trying to take the pack off fast and not hurt the Egg inside it. Ayla and Aerie would walk over and help her take off the pack and set it gently on the table then stepping back just a little ways the three young women would watch as the pack would then start to quiver just a little then stop as a little Reptilian head with horns would peek out of the pack looking around with wide eyes and say, "Woooooooooooooooooo", Then duck back down into the pack. Viconia, Ayla and Aerie would look at each other and smile then look back at the pack as the little head would once again peek over the sides of the pack looking around this time saying, "Coooooooooooooo". Then again ducking back inside. Then peek out a third time look around and say "Oooooooooooooooo". Then duck back inside.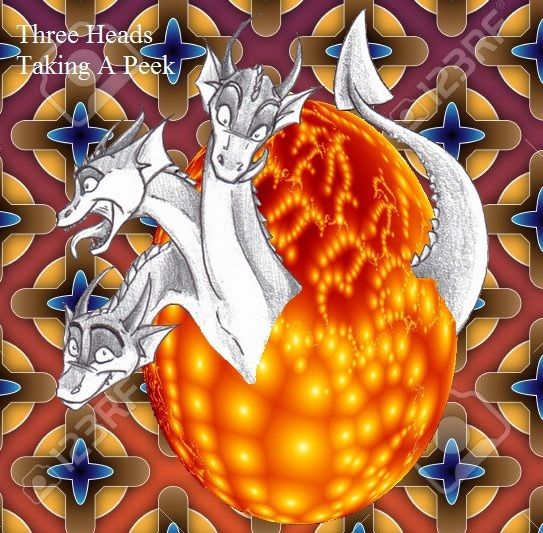 This time Viconia would walk back over to the table and look into the pack then looking back out and at Ayla and Aerie her eyes once again as wide as saucers trying to say something but was to surprised to say a word. She would then reach into the pack and pull out the Egg and the Three-Headed Baby Dragon that were still in it. As she was lifting the Egg out the Three Little Heads would be licking her face. Ayla and Aerie would start to laugh watching and Ayla would say, "Their giving momma a good face washing." Hearing Ayla Viconia would be setting the Egg down on the table and look over at her laughing herself as she said, "Yea either that or their getting a good taste of me so they can decide to eat me when they get older." Once she had set the Egg down the Three Heads would start moving around they wanted out of the Egg as all that was seen was the Three Heads and the Tail out a hole on the other side of the Egg.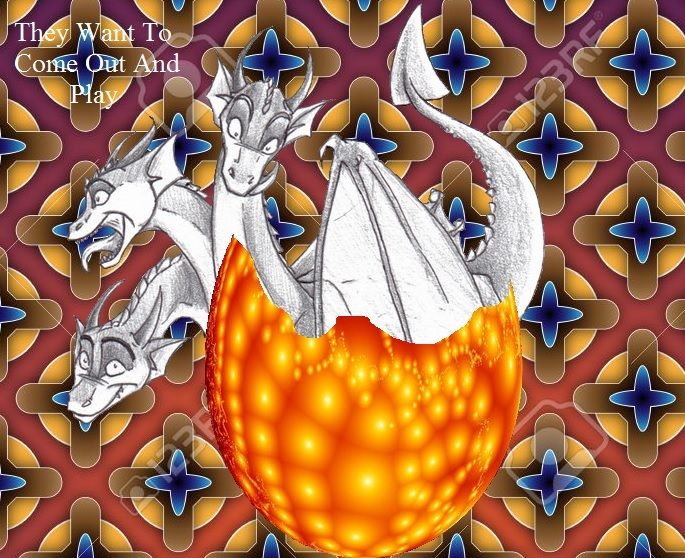 Then with a loud "CRACK" the top of the Egg would fall off, then the Wings would show. They started again to move and kicking at the Egg from inside it until the whole shell that was left cracked and fell apart. Then there stood this little thing with one body, one set of wings, one tail four little feet that were a little wobble, and three heads each looking in a different direction and each wanting to go in a different direction. Which was a bit hard for them to do, so they would walk one way then turn and walk another, then stop and look around. Walking from one end of Ayla's table to the other looking at the three of them then walking over to the edge of the table and looking down at the ground. "Don't jump off" Viconia would tell them. They would look at her then at each other and shake their head then looking back at her as they were still shaking their heads. Viconia would be watching her little one then looking at Ayla and Aerie she would have tears streaming down her face, "I'm a mother but I sure hope they don't try to eat me when they get bigger". The little Three-Headed Dragon would be at the other side of the table when they would hear Viconia and turning around seeing that she was crying they would try to waddle over to her a bit fast stepping on their Wings then have to hold them up so tht they could waddle over faster. Getting over to a still crying Viconia looking at her each little head shaking as they did cooing and peeping, then the right head would put it head on Viconia's left shoulder and the left head would be placed on her right shoulder as the middle head would start licking away her tears. Ayla and Aerie would be watching and smiling, "Awwwwwwwwww no one is going to get eaten they know their Momma." Hearing the two of them and looking over at them then back at her little ones she would then lose it all together crying as she would throw her arms around the Three Little Heads, "I LOVE YOU TOO." Once she had calm down and stopped crying wiping the tears away then looking at the little Three-Headed Dragon she would smile, "I was heading in to get something to eat I'm hungry and I just bet you are too. I'll go get us something to eat now you stay there I'm just going in there." She pointed in the Food and Drinks Tent then looked back at them. They seemed to understand her for all Three Heads nodded to her. She walked in and it was not long til she was back out with two plates of food. One with her dinner the other with three small piles of Roast Beef all three heads would sniff at it then smile licking their lips as they would start eating. Hatching was hard hungry work.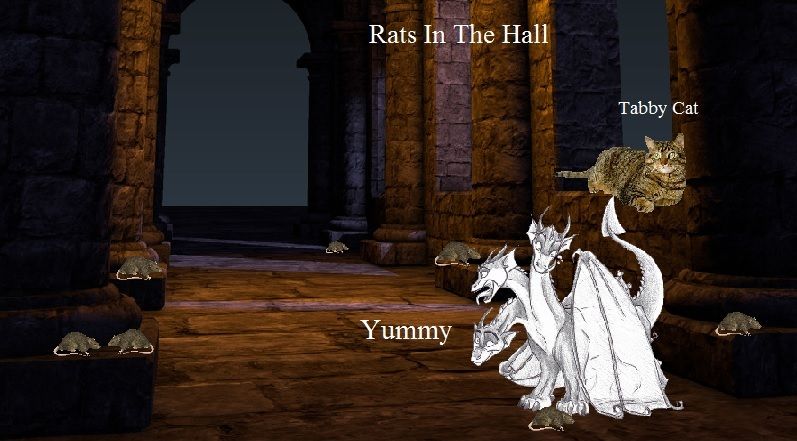 Viconia would soon found out just how easy it was to fed her Three-Headed little Dragon. For they seem to love any kind of meat, raw or cook. She had started with Beef which they love. Then Pork they gobbled it down. She even gave then Chicken and Turkey. And once she tried Venison (Deer Meat) and they loved that. But all though they love all that kind of meat she still had not found their most faverite meat of all but that would come from the Halls of Kain Xtros' Citadel. It all happened one night when Viconia and the little Three-Headed Dragon had return home to Kain Xtros' Citadel the little thing was acting a little hungry and Viconia did not have anything to fed them at that time, then there came screems from the Hallway as Viconia would head out with the little Dragon following her out. Out in the Hall Viconia would see some of the Slave girl running around screeming "RATS RATS RATS EVERYWAY". It seemed that Tabby Cat was not doing her job of keeping the Rats out. Then a Rat would run past the little Dragon. All Three of the Heads would look at it and let out a happy little peep and running after the Rat holding it's Wings up so that it woud not trip over them. The middle Head would reach out and grab the Rat then throwing it's head back and the Rat into the air catching it as it came down and swallowing it whole. And then from that day forwards Viconia's little Three-Headed Dragon's favorite food was Rat Meat though from time to time they would still eat the other kinds of meat Viconia had fed them before. And the little Three-Headed Dragon made a new friend out of Tabby Cat. The two of them would be seen many time hunting Rats in the Hall together.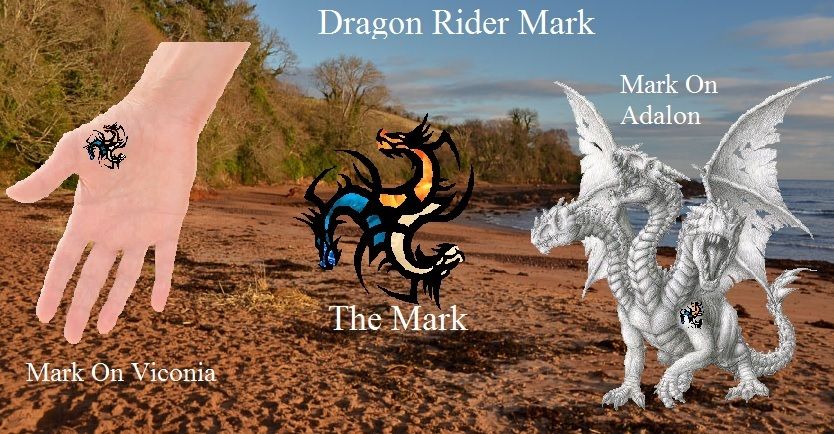 It was not long after the Rat's in the Hall that the little Three-Headed Dragon would start to grow. Viconia would then start seeing them start glidig off of things. They would jump up onto her bed just to glide back down again. They seemed to like doing that a lot. At Tent City they would glide off of Ayla's table. Once they were giding short distance Viconia would start putting them up a little higher and once they were doing good gliding down from tree branches she felt it was time that they learned how to fly.
But how does someone teach a little Dragon to fly when there are no other Dragons around. Viconia would just have to make it all up as she went. She thought about using one of Ayla's Airships but it would be to hight if it was flying high over the Loch. But they were able to Glide from the railing when one was on the ground. They loved riding on Al-Hadiya Aziza Vicoina's little Black Arabian Mare. They would hold on tight with their little claws but never dig in with their claws and cut they horse friend. Viconia would be riding a long on Al-Hadadiya Aziza and watch them as they would peep happily while flapping their Wings they would act like they were flying but would never let go of the horse. Viconia had watch them at any gait, a Walk, Trot, Canter, or full out Gallop. They would just flap their Wings enjoying the whole ride but just would not think about letting go and taking off into the sky. So she would have to try something else.
One day she when she was out in an opened field with her little Three-Headed Dragon she decided to try something. She then picked the little Dragon up and holding her arms straight out in front of her with her palms up. She coud then bounce the little Dragon on her forearm like one would bounce a Volley Ball. So using this Volley Ball bouncing technique Viconia would run around the field just outside of the Sparring Arean Gate bouncing her little Three-Headed Dragon. They seemed to enjoy it and would flap their Wings as they were bounced. Then with every bounce they would seem to fly a very short ways in front of Vionia but the hover some for her to catch up to them. This distance was getting farther and farther away from Viconia til all of a sudden they just took off flying sky ward higher and higher and higher they went til they were out of sight. Viconia would start jumping up and down cheering, "YOU DID IT, YOU DID IT." Then looking around to see them coming back but she could not see them. She did not know when the tears had started streaming down her face but they had as she was looking around, "oh please come back, please come back." She was crying quite hard now as she was still looking around for her Three-Headed little Dragon, "Ok fly be free my little ones." She would then sit down on the grass and pull her knees up tp her chest and fold her arms on them and put her head down on them crying very hard, "I will miss you, I love you."
The little Three-Headed Dragon had not gone far and it was close enough to hear Viconia as she was crying. But they could not for something wonderful was happening to them, they were growing. There would be a flash of Magical Energy around the little Three-Headed and a bit of pain would run through it as it would roar out in pain it would also grow a little. And back on the ground Viconia would feel the Magical Energy burning in her right hand. As she would look at her hand she would see a strange mark forming there on the palm of her hand right below her thumb. She did not know what it was at the time. This mark would be Black with Three Dragon Heads on it. Then there would be another flash of the Magical Energy and the Dragon would roar again in pain and grow that much more. And on the ground as Viconia was still looking at the mark when she would see one of the Heads glowing like Fire and her hand would burn for just a second then stop. She had no idea what was going on as she just sat looking at her hand. Then there was another flash of the Magical Energy another roar of pain from the Dragon as it would grow once again. And again on the ground Viconia would for a second of pain in her hand this time it would feel as if she had stuck her hand into a tub of Freezing Water and she would see the next Head growing a Light Blue looking a little like Ice. She would then look up into the sky seeing if maybe she might see the Little Three-Headed Dragon but she could not. Then for the fourth and final time there would be a flash of the Magical Energy the Dragon would roar in pain but this time it would now be a fully grown Three-Headed Dragoness. And on the ground Viconia would once again feel the pain in her Hand as she was still looking at it, this time seeing what looked likt Lightening flashing in the last Head and for a second her Hand would feel as if it had been struck by Lightening, but the pain did not last for long.
It was then that she would hear a whish and the sound of Leathery Wings. Then looking up she would see the biggest Dragon with Three-Heads that she had ever heard of. She could not help the tears that were still streaming down her face as she looked up at them. "It's you isn't it, but how can it be that you have grown so fast like this, and now you are going to eat me." All Three Heads would then start to laugh each one making it's respire Elemental sound, the Right Head would sound like a Crackling Fire, the Middle Head would sound like Cracking Ice, and the Left Head would have the Electrical sound of Lightening as each one was shaking their Head, "NO you were our MOTHER and now you are our RIDER."
It would be then that Viconia's mouth would drop open and her eyes pop wide open as she was looking at the Three-Headed Dragon. "Yooooooou yyyyyyyyou caaan tttttttalk. your mouths don't open but I can hear you talking here." She would point to her head. "How can that be you couldn't talk before." They would again laugh hearing her. "Well we were just a baby then. We wanted to talk we just couldn't at that time. Like you humans as babies we can not talk until we have grown some. Only you can hear us clearly, either all three of us at once or just each head alone." Viconia would nod hearing this. "Do you have a name what is it.

" The Three-Heads would nod again, "Yes, we are Adalon." She would smile as they told her their name, "Adalon." She would repeat it herself then look up at them and smile, "I like it."
She would then hold up her right hand so that they could see the mark on her hand, "What about this do you know anything about it???" Again they would nod, "Yes we are bounded together the four of us. It is this bind that make it where you can hear and understand us. We have one too it is here on our left shoulder." She would walk over and look at the mark on the Dragoness' left should and nod again as she would look up at them, "Does it do anything else." They would nod, "Yes, you were given a Large Grey Chest with a Dragon on the Lid. That mark is also a key to unlock it now." She would look at them and nod, "I see what will I find in it, do you know?

The Three Heads would nod, "Yes, inside the Chest you will find, your Dragonrider's Saddle, your Armor, and your Weapon, we think that you will enjoy working with and learning how to use it all." She would look at them and smile, "I just bet I will, I can't wait to go have a look and give it all a try." They would look at her, "But before you can try it all there is one more thing that must be done first." Viconia would cock her head to one side, "and what is that?

" They would walk a bit closer to her, "You must touch each one of us in turn so that you can be bonded to each of us."
She would look at them on hearing them she would nod and walk up closer to them as the first the right one would bend down so that Viconia could touch her. And as Viconia would touch the right head it would feel as if she had put their hand into the hottest part a Fire then pulling her hand back and looking at it expecting to see blisters and damage from burning, but there would be no sign of burning and her hand would have stopped hurting the moment she took her hand off the head. She would then hear that head say "I Am Fire we are one you and I".
She would smile and nods then the next head the middle would bend down and she would touch it, it would feel as if she had put their hand into a Frozen Lake then pulling their hand back and looking at it expecting to see the hand itself frozen or damaged from Freezing Temperatures, but there would be no sign of anything and her hand would have stopped hurting the moment she took her hand off the head. Viconia would look at them and hear that head say, "I Am Ice". We are one you and I".
She would smile and nods then the next head the left head would bend down and she would touch it, it would feel as if she were being struck by Lightening. Her whole body would be in pain, but once again by removing her hand from the Dragoness' head the pain would stop and She would hear that head say, "I Am Lightening". We are one you and I".
Viconia and Adalon were now one she and only she could hear and understand her Dragoness. It was now time to see what was inside the Chest and learn how it was all used.
Viconia and Adalon were heading off to her room in Kain's Citadel in Union City. Even without the Saddle it was not hard for Vicoina to ride on Adalon. And on that first ride Viconia had a great time. When they got to the Portal between Loch Ness and Union City Viconia was not sure how such a large Dragoness could get through it but she did. When Viconia asked how she did it Adalon told her, "Because Dragons are Creatures of Magic."
Once at the Citadel Viconia would race up to her room, once there she would run over to the Chest as it was next to the wall never her bed. On the Chest was the same Mark that was on her hand. As she place her hand on the Mark the whole Chest would start to glow and the lid would pop open. She would then look inside. In the Chest she would find a suit of Armor with a Helmet, an odd looking Bow with no Quiver and only one Arrow, and her Dragonrider's Saddle. She took it all out of the Chest and put it neatly on her bed. Once done she would stand looking at it all. "So now what do I do with it all. That Chest came without a User's Manual."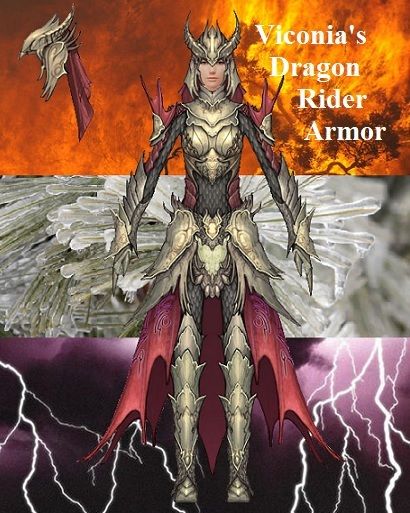 She walked over and stood looking at the Suit of Armor. She then reached down and picked it up theHelmet holding it up to look at it (see above pic). She then walked over to the mirror with it in her hands and put it on her head. Then something amazing would happen. From under the Helmet a cord of Flames would come spiraling down, followed by a cord of Ice spiraling down, then a cord of Lightening spiraling down towards her feet, this would keep repeating. And through the spiraling her Armor could be seen forming over her bady. She could not believe what she had just seen with her own eyes. She would try it again a few more time and the same thing would happen. But she thought what if I wasn't holding it and I wanted to put it on. So she would take it off and walked back over to her bed setting the Helmet on the bed. She would then turn and walk just a little ways from the bed turn back around looking at it and puting both her hand palms up and say, "Helmet." And it would appear in her hands. She would smile and going over to the bed she would put the Suit Of Armor and Helmet back into the chest. She would then run around to different parts of the Citadel and call for the Helmet and put it on and her new Armor would form on her body. She would also find out that when she was finished with her Armor all she had to do was say, "Back To The Chest." And the Helmat would vanish returning back to the Chest in her room.

She would then put her Dragonrider's Saddle into the Chest and contacting Adalon with her mind and telling her to meet her in the Garden. Once the two are both there Viconia would tell Adalon what she had learned and shows her how she can get the Suit of Armor on and off. Viconia would then look at Adalon and thinking about the Saddle being on the Dragoness and the Saddle would take form on the Dragoness' back. She was now ready for Viconia to mount and take to the Sky. Viconia would then look at Adalon "How does it feel are you comfortable with it on. Feel like you could fly with it on." Adalon would look around at the Saddle on her. And wiggle around a bit, then walk around some then looks at Viconia. "It feel very comfortable on. Let go for a short flight and see." Viconia would nod and climb on. And the two would take to the Sky. They didn't go far or fly for long Viconia still had the odd looking Bow and Arrow to try out. So once they were done testing out the Saddle on Adalon they heading back to the Garden. Viconia would dismount then looking at the Saddle on the Dragoness Viconia would say. "Back To The Chest." And the Saddle would vanish. Viconia would then run back to her room to get the odd looking Bow and the one Arrow and head off to find Viktor Xtros and her Escort Guards.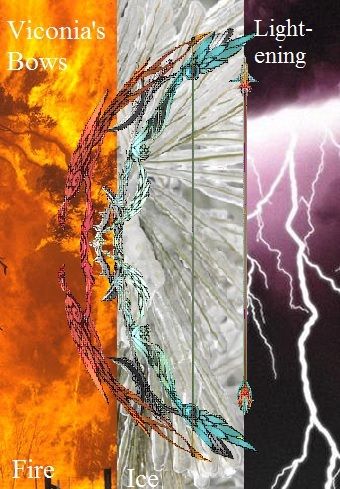 Viktor Xtros and the rest of Viconia's 5 Escort Guards were at the bottom of the Hill that Kain's Citadel sat on, where the Training Area was. That would be the place Viconia would find them as she would run over to Viktor all excited. Viktor would hear then see her coming and seeing how excited she was he would smile at her, "Calm down excitable Child." Elwood, Damodar, Berek, Lux, and Dorian would all see and hear her and would smile as Viconia would rush over to the six of them. She had a very big smile on her face, "Calm Down, Calm Down you all would be just as excited as me if you all had had the day I have had, it has been GREAT." She would relay the whole story to the six of them. They would all nod listening to her, Lux would point up towards the sky, "We saw the Dragon flying over head didn't know you were on her at the time, must have been a blast riding her. I would love a ride on her." Hearing him Viconia would smile and call down Adalon. The Six Vampires would watch as the large Dragoness would land near Viconia and they would all be in awe at just how big the Dragoness had grown. Each one would take turns touching the Great Beast as Viconia would translate what Adalon has said to them. She would then give each one a short ride on Adalon. After Lux had had his turn he would smile as he jumped off the Dragoness' back a smile from ear to ear on his face, "Damn I was right that was a BLAST!!!!!!!!!" Everyone would laugh for Lux was as now as excited as Viconia had been. She would then show them how she could get the Armor on and off and how she could get her Dragonrider's Saddle on and off Adalon. She would then show the six of them the odd looking Bow with no Quiver and only one Arrow. Viktor would tske the Bow and Arrow from her to get a better look at them, "They sure are odd looking. I don't think it would be safe to try them out so close to the Citadel or Union City. Lets get a Wagon and some Targets and head out to the Waste Lands outside the City." So the 7 of them would get into a Wagon and head out so Viconia could give the Bow and Arrow a try. Once the group had reach the Waste Lands the Guards would set up the Targets. Then they would walk back to the Wagon that was parked behind Viconia as she was getting ready to try the Bow. She would then notch the Arrow and Fire the Bow:
Once the Arrow is released it would then split into three parts the first being a Large Fireball then a Large Ball of Ice then a Crackling Ball of Blue Lightening. Exploding on impact the Fireball throwing out a Solid Sheet of Flames in a 20-ft.-radius. Then the Large Ball of Ice exploding on impact and throwing out very Sharp Icicle Daggers in a 20-ft.-radius. Then the Crackling Ball of Blue Lightening exploding on impact and throwing Lightening Bolts in a 20-ft.-radius.
After watching what had just happened Viktor would nod, "Just what I thought, good thing we tested it outside the City." He would then look at Viconia still holding her Bow as a new Arrow had just been generated. He would then nod, "So that is why there is not Quiver it Generates it own Arrows." He would then walk over to Viconia and ask to see her Bow as she would then hand him the Bow and the Arrow. He would look at them and notice why the Bow and Arrow looked so odd.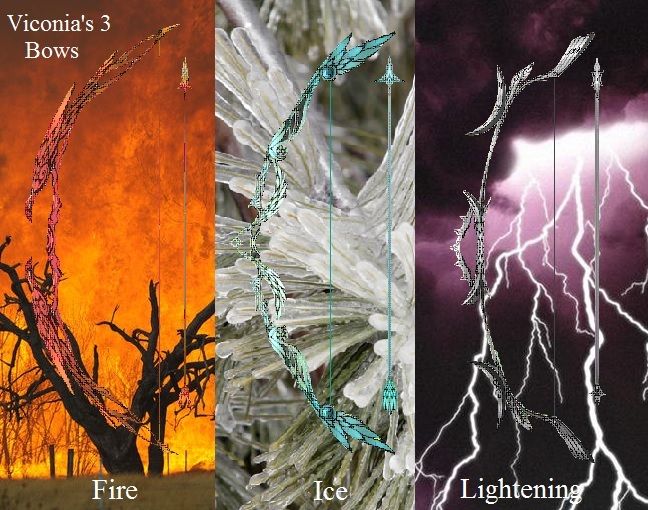 As he took the Bow and Arrow from her they would all then see that it was not just one Bow or just one Arrow but Three Bows and Three Arrows fitted perfectly together. With Viktor and her Escort Guards, Viconia found out that the three Bow and their matching Arrow were one to each of the three Elements that were part of Adalon, One was Fire, One was Ice, and One was Lightening. 3 Bow that could be fitted together which would make her 15 Bows all counted, each combination had a different affect.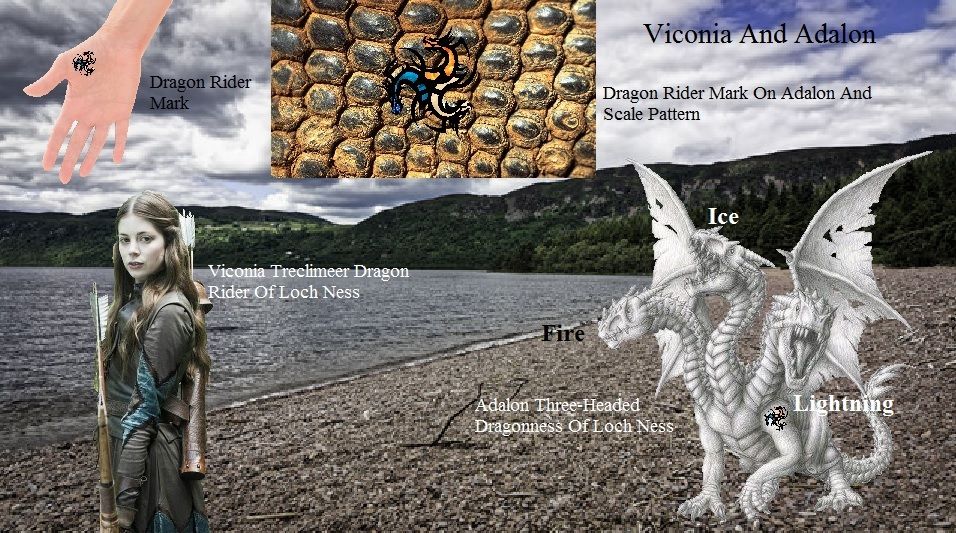 So there you have it, the Story of Viconia And Adalon and how she became:
VICONIA TRECLIMER DRAGONRIDER OF LOCH NESS
OOC: There it is. I told you all it was a long one. HEY Seth word count is 5005. Hope you all like it. I sure do. This is actually a SL that Bryen (Sp?) and I started when he was living here. It is still going and is opened to who every wants to join in, and with the war with Sirus a Fleet of Dragonriders would not hurt to help Ayla. Hey Seth you killed off Xiuhcoatl feel like making a new Dragonrider Char.