Post by Shaggy on Dec 28, 2009 10:56:39 GMT -5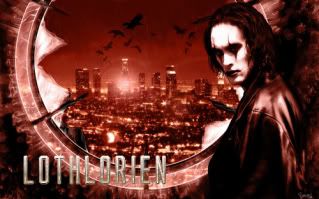 'I am who I am truly, Nothing more. And nothing less.
So, fear not. I am not to be feared. But to be a part
of your world. As a god. As the diety my father placed
me as. As your friend. And as your greatest ally too.'
- Written By Lothlorien 1022 B.C.
'Greatness comes by those who wait for it. Not by those
who seek it out. Not out of greed. Or by the ways of hate
itself. No, greatness is powered by a great king. Or a god
who rules above them all. To be remembered for all of the
great things he/she hs done. Only in their own lifetime.'
- Writen By Lothlorien 2048 A.D.
Name: Lothlorien
Age: Unknown
Hair Color: Black
Eye Color: Black
Height: 6'11"
Weight: 250 Lbs
Build: Muscular Body ( Six Pack Included
Pet: Immortal Crow
Occupaion: God, New King Of The Nord Dieties
Family: Felicia, His Mother - Aramis, His Father who is Deceased.
Discription: Image, And see why. ( Other words, Look up at pic. )
Character Personality: Cool, Kind and respectful to all forms of
life. Honors the structure of kings and queens. But, doesnt bow
to royalty. Kindy will give a hand if it is needed. And like his own
father, will NOT ALLOW Loch Ness to fall to enemy hands.
Brief History: From the year 2048, Aramis opened a rift beteen
the worlds of Ayla a everybody else. To the future Loch Ness, that
involves a big city of choas. That his grown son Lthlorien is helpin
the Lhiannans of the future gain back from enemies then. Which
is rather hard to do in the future.
When Aramis explains the situation at hand. His son agree's to
come back to the past. When of the time he was born. To take
over his fathers reign of the Nord Dieties. Not knowing. That this
was hi father, before his death by Krissa. The Titan who got out
fom her prision. And reigned teror of Loch Ness. Thus brought the
choas to Loth's time as of now. A fight between the Nord dieties
and the land Of Loch Ness continues.
But, Loth returns. Walking through the rift. Entering after his own
fathers death. To gain controll of his fathers kingdm and his diety
family. Thus starts his story.