Post by Shelly D. D. on Apr 26, 2016 14:29:55 GMT -5
Here is the RP from Sunday Night for who ever needs it. I have also added David's post from the board. The color codes are listed below.
Methuselah: White
Fiskar: Gray
Sirus: Black
May: Pink
Ayla: Orange
Viconia: Lime
Aerie: Yellow
He paid no heed to poor Viconia. He paid no heed to May. He was lost in his world of wonder, wanting to see what Sirus looked like through the eyes of a Unisus, what he felt like to a Unisus.
Just as Methuselah's blood red orbs found Fiskar once he had reached the gate, the Thunderer's dark blue eyes had fallen on the albino. And what he saw was amazing.
In Methuselah, Fiskar saw a man. There was a dark outline about him- the vampiric side. There was also a red glow about the dark outline- the Berserker. But there was also a strange white light with black flecks that surrounded everything altogether. The light felt pure. Powerful. Ancient. It felt strangely conflicting, the light surrounding the darkness about the albino. As Methuselah approached Fiskar, the Trickster could make out the magic, the lights of the pure aura.
Methuselah saw May slide her hand into Fiskar's monstrous one. The flawless, pure being that he had seen before. What was she doing with Fiskar? He then saw Ayla, Viconia, and Aerie. Viconia looked panicked, almost hysterical. The trio were aware of Sirus' demands. They knew what was coming. Methuselah was conflicted. He knew that Fiskar was their friend, despite his dislike for the raven-like monster. And he really didn't want to reveal his nasty side to May, because despite being a vampire, he was not a bad one! But Sirus now had both Innocent and Xiu, and Methuselah really really needed to get Mina to fix this whole predicament. And so nasty side it was.
"Thunderer!"
he boomed. The General pulled out his katana and aimed it at Fiskar's throat.
"Where ist thy blue-haired woman?"
Fiskar did not answer; he simply continued to stare in wonder at the conflicting magic surrounding Methuselah. The albino growled and touched the tip of the sword to Fiskar's throat, but the Thunderer only pushed it away with his claws and stepped toward the General, reaching out a hand to touch him, curiosity having gotten the best of him. Caught off guard, Methuselah took a step back, blinking, confused. But his step back resulted in another step forward from Fiskar. Methuselah, unsure of what the hell was going on as it was quite uncharacteristic of the raven man, dropped his gaze questioningly to May, before quickly bringing it back up to Fiskar.
"Art thou mad, monster?! Didst thou not hear mine words?!"
"Oh, I heard them…" Fiskar replied, distracted, still attempting to reach for Methuselah's face.
The albino shot a quick, confused glance to the trio. What the hell was going on? He then took another step back and became rather annoyed at whatever Fiskar was doing. He rolled his eyes then looked to May.
"Mine apologies…"
he said to her before he reacted to Fiskar.
With his free hand, the albino grabbed Fiskar's outstretched hand by the wrist. He then jerked his arm to spin Fiskar around. The sudden action would cause Fiskar and May's hand-holding to break. Once Fiskar was back to Methuselah, the General kicked at the back of the Trickster's knees, causing him to drop. Still holding Fiskar's wrist, The foot that had kicked out at the Trickster rested upon Fiskar's lower back. Fiskar winced, his arm held behind his back. It was the best Methuselah could do without fully hurting him, as he knew the trio and May would not want. Methuselah then shot Ayla a genuine 'WTF!?' look.
"Thyne Thunderer ist mad!"
he hissed to Ayla, bewildered.
"Sirus has Innocent."
He then quickly said, before anybody could retort on what he was doing to Fiskar.
"Where ist Mina, m'lady Ayla? Please… Please! He hast Innocent…!"
- Sirus still held on to the chain that connected Innocents cuffs as lillith walked up and said her peace. Sirus would give a evil smile as he looks to Innocent for lillith was one who was now helping Sirus in this war and a new member of the order of the seven. As her wards of taking Innocent and not hurting her to much, came from her mouth, Sirus would slowly turn his head to look at lillith's beautiful body and watch her every move as she showed the sword to Innocent. Sirus then herd the commotion on the ground and he would turn his head to look over the side of the ship and watch as Meth would put Fiskar down to his knees.Sirus would simply give a grin and a little " ha " and then turn back to Lillith and speak-
Sirus:
yes indeed, you and general Karr will not let the queen escape and you shell watch over her and make sure she is....ummm comfortable as possible.. she is a queen you know. One thing I do want you to do is make sure you save a veil of her Blood for me, but I need her alive.... as much as a vampire can be that is. Karr is waiting for you in the dungen of my castle, the queen shell not be kept here on this ship as prisoner but in a place more fitting. oh and be sure to lock her and strap her to the cross thats in the room waiting for her.
- Sirus would switch hands so he wouldn't have to let go of the chain and with his right hand that was now free, he would wave his hand in a circle motion and a portal would open up there on the deck of the ship. if you looked through the portal, one could see a dungeon room with chains on the wall and clamps and ankle lock bars running across the floor in the back of the room. there would be a wooden table that many different metal knives and torture tools and leaning against the table was General karr. Leaning against the wall was a ruff looking heavy wooded cross with the legs spread at the bottum. Sirus would then hand the chain the a soldier as two more soldiers would walk up behind innocent and take her by the arms on each side. they then would look to lillith so they could follow her. these soldiers would do what ever lillith said or told them to do. Suddenly, Sirus would reach up and grab Innocent around her neck and pull her very close to him as sirus's mouth was now inchs away from Innocents ears-
Sirus:
You and I Innocent have known each other for a very long time, I have known your family but your going to get to know me in ways that others have not!
- as sirus finishs his words he would let Innocent hear a deep and low male demonic king growl as his grip tightens alittle and then suddenly Sirus would push and throw innocent away from him as the soldiers now pulled on her to take her towards Lillith and the portal.
Sirus then would turn his attention towards what was going on on the ground. he would prop a foot up on the side of the ship and look down and out as he watched May using her magic but Sirus could only see the light but Sirus was no fool, he figured she had done something with magic, but then Suddenly he would watch and hear as Ayla told Meth that this Mina was last seen in some place called New York, in the future. Sirus was now intrigued. Sirus places and hand on the hilt of his katana to only rest it there and then speaks but only Boon and the troops on the ship could hear him-
Sirus:
hmmm... maybe it is time that I speak with my future self.
As she watched Mister Fiskar's reaction to Mister Methuselah, a giggle left her. A sound that reminded one of the tinkling of bells that one could hear from a music box. He reminded her of a curious child and it was kind of amusing. Though she could tell that the other man did not feel the same amusement as she did. In fact, he thought the other man had, in fact, lost his mind. Maybe, in a way, he could very well have for a short period of time. For this was a lot to take in for someone as she had now found out.
She had been about to stopp Mister Fiskar from touching Mister Methuselah when she was apologized to. Her attention had been diverted, so she did not notice what was going on at first. The next thing she knew, her hand was snatched from Mister Fiskar's. A few moments later, he was knocked down to his knees and his arm held behind his back.
Instead of taking any defensive action, for May was not one who wished to harm anyone, she just walked over to Mister Methuselah. A soft hand was placed on his arm and her voice would lift to his ears from her small five foot four height.
"It would seem that you do not like Mister Fiskar. I do not know as to why that is, but I do not think such actions are necessary."
The innocence and purity remained, but something had changed. Every graceful action she took was filled with absolute sincerity. That hand now slipped from his arm and she moved her form in front of Mister Fiskar. Whether Mister Methuselah let him go or not, she would get down on her knees and place both hands on Mister Fiskar's face. Lifting his gaze to meet her own ruby red orbs.
"Mister Fiskar, you wish to go in there, do you not? I do not know as to why, but since that is the case, I will not stop you. Nor can I go with you. This is as far as I can go. Since I can not go with you and help to protect you, I wish to give you a gift instead."
She then leaned over and whispered into his ear what it was, and what it meant. Once she had finished, she leaned back and looked to him. She would wait to see if he agreed, or if he turned the gift down.
*Ayla would watch as Meth grabbed Fiskar and kicked him to the ground holding his hand behind his back then hearing him asking her where Mina was she would shake her head*
I don't know last I heard she was some way in the future in a place called N.......New Y.......York I think
*Running up and seeing Methuselah grabbing Fiskar and kicking him to the ground it made her very up set seeing her friend being hurt like that*
GENERAL METHUSELAH YOUR HURT FISKAR PLEASE STOP IT LET HIM GO
*tears would be streaming down her face watching Methuselah*
*Aerie would catch up with the other and hearing that Sirus now had Innocent she would look at Methuselah*
Damn and he wanted her in the first place how are we going to get her back
He could feel Methuselah's irritation, on the ground, the albino still holding his wrist behind Fiskar's back. He could feel Viconia's worry, fear, and sorrow. Fiskar was absolutely loving the positive sights and sensations through May's gift, but the negative ones? Not so much. He did not enjoy the feeling of intense sorrow. He did not like the intense sensation of worry.
May had kneeled in front of him. There was that pure magic. That innocent magic. He tried pulling his hand away from Methuselah in order to touch her, but Methuselah would not let go. And so he raised his free hand, but May had touched him, first. Both of her hands on his face, lifting his gaze to meet hers.
She spoke to him, but he wasn't sure if he heard her, or not. He was hypnotized by her flawlessness without the gift of Unisus vision. With the gift, he was twice as curious. And though he had touched her twice before, he wanted to do it again. His free hand finally reached up, and he touched May's cheek with the back of his monstrous, clawed index finger as gently as he had done twice before. May leaned in and whispered into his ear. Fiskar shut his eyes, his hand dropping to his side, as he partially listened to her words. She had mentioned Sirus, and from there, all he could seem to concentrate on was his curiosity of what Sirus would look and feel like with the Unisus gift. Yes. Yes he wanted to go. He opened his eyes when May pulled away. He parted his lips, but nothing escaped. He stared at the flawless magical being before him with dark blue eyes and eventually nodded.
New... York?"
Methuselah repeated.
Blood red orbs glanced to Viconia. She was crying because of his hold on Fiskar, and Methuselah felt horrible about it, but the Thunderer was mad in the head and getting on his nerves. But Viconia was from the future. He knew that. Did she know of a place called 'New York'?
"Can thou taketh me?"
he asked, glancing back to Ayla. He then glanced to Aerie as she asked how they were going to get Innocent back, and shook his head.
"I needst Mina. I needst to fixeth mine mess..."
He cast a glance to May, then looked back to Ayla, desperate.
She was listening to Methuselah and Ayla as well. Keeping everything that was going on around her as important. She knew Viconia was worried, and she had a feeling she knew what place they were talking about. She had met someone from the future before. A long time ago. His name was Mister Chris and he had given Mister Seth these things called sunglasses. As far as she knew, Mister Seth still had them too.
Though, she was keeping her gaze locked with Mister Fiskar. She chewed on her lower lip as he had agreed to the gift.... but she also knew he was kind of out of it and had a feeling he was still not sure he knew what he was agreeing too.... Hoping he would not be mad at her, she smiled to his finger on her cheek. Her hands slid from the sides of his face and she moved back a little bit. Lifting her hands to a small and silver chain wrapped about her neck. After pulling it off, one would see a large diamond engagement ring. It was the ring Q had given her a long time ago. Though none knew about that and probably would never know now.
She closed both of her hands over it, as if in prayer, and a light started from that spot on her forehead and went down her body once more. Anyone watching would just see the light, but Mister Fiskar would see all the magic that went with it. What he would see and feel may shock him and the tremendous amount of power she was now using. It was all being concentrated on this ring and chain she held within her two small hands. So much power, in fact, that she was beginning to sweat a little and her breathing picked up. Those tiny hands began to shake as she had not used this much power in a long time. Just because she was magic, did not mean that she had unlimited magic power. She had already used some of it through out their day, from the teleporting to the dark gem, to the shield she had summoned to protect herself from the dark creature that had tried to come after her, to showing Mister Fiskar what his own realm and this realm looked like through her eyes.
Now, she was pouring power into what was in her hands now. Bringing her own powers close to their limits. When she finished, the light vanished and though she looked triumphant, her breathing was heavy and she looked tired. Still flawless, but somehow.... tired. She did not wait for anyone to say anything and slipped the necklace about his neck. It no longer looked like an engagement ring on a silver chain, but it sat on a black cord and looked more like this.
"There you are Mister Fiskar. This will help you."
Once it sat about his neck, she leaned back and wiped some of the sweat off her brow. She did not get up for fear that her legs would not hold her. She needed to rest and recharge and soon.
*Ayla would nod at Methuselah*
I think so I was there once not long ago with Fiskar he needed Mina there, It was meant to be an in-and-out mission but Sirus show up and ruined the whole thing.
*A near by Guard would walk up to Ayla and bow his head. She would then turn to him to hear what he had to tell her*
She did what??? Are you sure???
*He would nod his head yes and Ayla what nod back and as the Guard was turning to go she would look back at Methuselah*
Methuselah I have just been informed that Innocent gave herself up to Sirus. He saw her jump to the anchor and climbing on board his Airship.
*She would sigh and shake her head*
That girl is to "Full Of Herself" as Kain Xtros woud say
*She would stop again and sigh before going on. Like Viconia she too missed Kain he had been Ayla's teacher on many thing and he had become her brother. And with this war with Sirus she could really use his guides.*
And I sure do wish he was here we could use his help, he would not be happy with the way Sirus has broken a treaty and his word
*She would then look up at Sirus' Airship and wave, but if Sirus were to look up too he would see 6 Airship high up above his own they were the Airships of Ayla own fleet, and they would be to high above his for him to attack them and they were only there watching his Ship.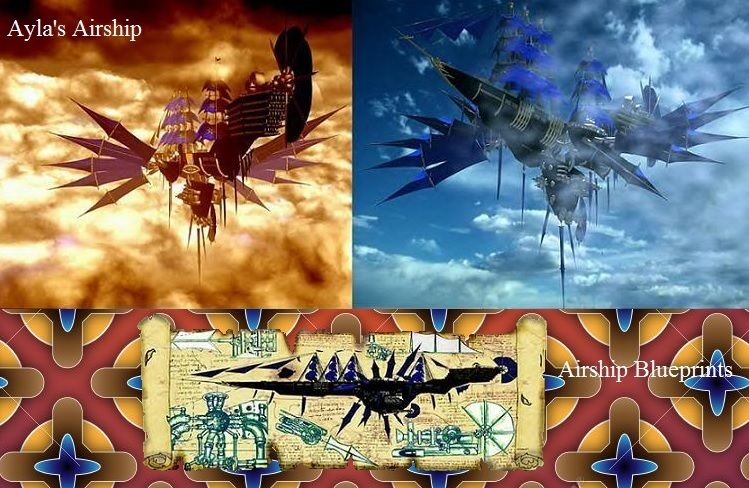 [/center
Years back Ayla met an Elf named Kelven. The two had become great friends she help him with some problems he had and in return he also help her with some of the first wars that had pasted through Loch Ness. He had also given her a great gift an Airship she had never seen one before so he had made her three. Then he had to leave Loch Ness but before he had he gave her the Blueprints for making the Airship and he also taught some of her workmen how to make the Ship if ever she needed more. She thanked him and tried to get him to stay but he could not. After he had left she would have three more made now she had a fleet of six Airship patroling the skies of Loch Ness. And the Blueprints if she ever need to have more made.
*Crying was an understatement, for if Methuselah were to look past the tears and into Viconia eyes he would see that she too and not only was Fiskar mad in the head, Viconia was on her way to becoming mad in the head then he woud have her getting on his nerves too. And yes she knew of a place called 'New York' she had been born there but in the year 3007. The year was 3027 when Kain Xtros and Viconia had made their agreement and that was the year he left the future returning to 1216 Loch Ness Scotland. But at this time she was in no state of mind to help Mehuselah not with the hold he had on Fiskar. Fiskar was her friend and her friend was being hurt and that was hurting her. And there was only one thing she could think of at this time and that was for her friend to stop being hurt.*
STOP HURTING FISKAR!!!!!!!!!!!!!!!!!!!!!!!!!!!!!
*Aerie would be standing next to Viconia trying to calm her down but not having much luck doing it. She would look over at Methuselah*
Meth if only for Viconia's sake please let Fiskar go.
*She would shake her head*
I'm not sure what is the matter with him. But.........
*She would stop a minute and look at may who was giving something to Fiskar she could not tell what she would then look back at Methuselah*
I think May has something to do with what is wrong with him.
*She would then see her mother looking up at Sirus on his Ship and then look up at him as well then back down at the others*
We are being watched.
*She would then see her mother's fleet of Airship and smile*
but then so is he